Illustrations for the film Last Dance
Last Dance starred Sharon Stone, Rob Morrow, and Randy Quaid. I drew all the artwork that was, in the film, drawn by Sharon Stone's character. I met Ms. Stone, sitting with her for a short time one afternoon, to talk about the style of the artwork. I also met Rob Morrow, actually going to his hotel room where he posed for the caricature I drew. All of the almost 175 pieces of art created for the film became the property of the film production company. I managed to retain one copy of the Taj Mahal drawing and one of the caricature of Rob Morrow. Other pieces, done in pencil, watercolor and pastel, can be seen in the newpaper article and in the memorabilia collage.
Click on the thumbnail to see the artwork.
(Artwork will open in a new window.)
---

---
Last Dance Artist Newspaper Article in the Nashville Tennessean
---
The Taj Mahal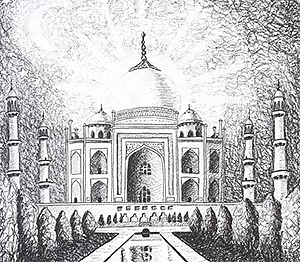 ---
Caricature of Rob Morrow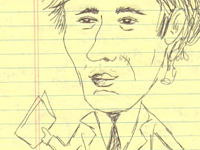 ---
Last Dance Memorabilia Collage